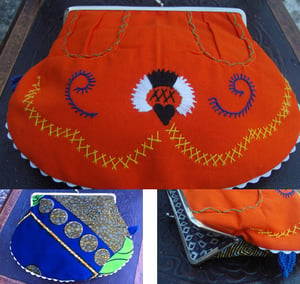 €

29.00
Fabrics used are a vibrant orange hand embroidered cotton apron from Viana do Castelo for the front and an african wax print fabric for the back. For the lining I used a vintage cotton also often used to make aprons. Trademark blue crocheted cotton leaf for a tail.
Measurements:
The purse measures 18cm across the frame, 26 cm across the bottom and is 18 cm tall.
All prices are in Euros.
You are welcome to visit my blog:
Esquilohandmade.blogspot.com